About Zef Spray
In Rust, it's extremely difficult to control the recoil of weapons. We know! That's why we offer you the high-quality and affordable this Rust no recoil macro product.
By purchasing the Zef Spray Rust no recoil macro product now, you will focus on killing rather than performing acrobatics with your mouse. Make the best AK spray in the world, minimize your tabs with pistol mode or kill through enemies at close range with the Thompson. We offer you exactly 5 different weapon macros. In addition, the safety of our customers is very important to us. Facepunch and EAC don't like macros. For this purpose, as always, 88Software has secured Zef Spray a high degree of protection. Our codes are encrypted with a high quality cipher program, each time you open the program, the signature value changes, each bullet you spray 5 bullet go to different places, our macro programs do not interact with game files and codes, interact directly with your keyboard and mouse.
Zef Spray Rust no recoil macro product can work with all brands of mouse and keyboards, no need to have a macro feature. You can now purchase AK, LR-300, Thompson, Custom SMG, M249 and MP5A4 macros at an affordable price. Dominate your opponents!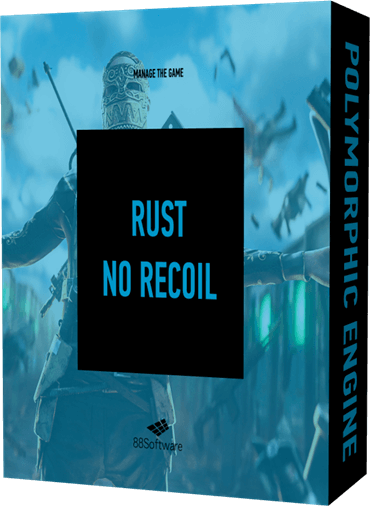 Best in Field It
The best no recoil macro patterns on the market are at Zef Spray! You can try it right now and see it with your own eyes.
Safe
It works seamlessly with VAC and Easy Anti Cheat anti cheat systems. We have high protection technology for you.
Audio Files
If the macro of the weapon is activated, the name of that weapon is read in the background. You can turn off the sound from the volume mixer.
Adjustable
You can assign the desired weapon macro to the desired key. When you open the program again, you will see that the keys have been saved.
Works On All Mouses
You do not need a macro mouse to use this macro program. Just open Zef Spray and sit back and enjoy the game.
Automatic Update
It checks for updates when you open the program. If a new update is available, it is automatically downloaded and installed on your computer.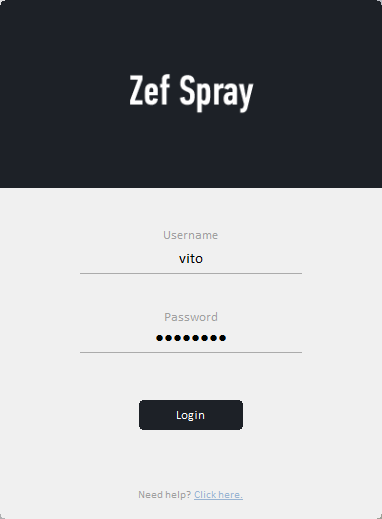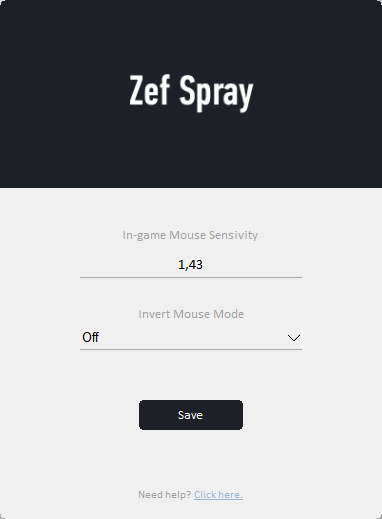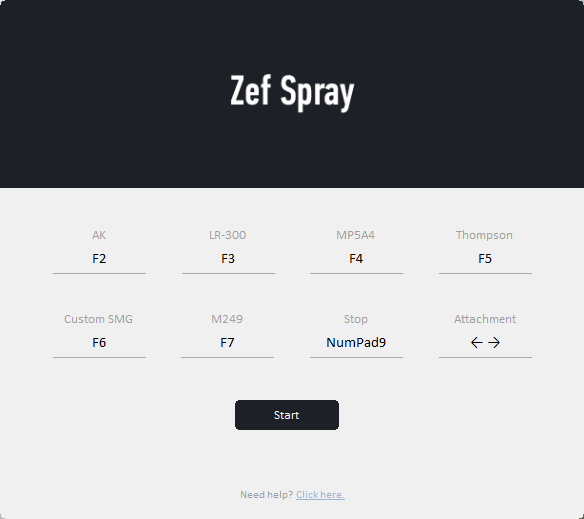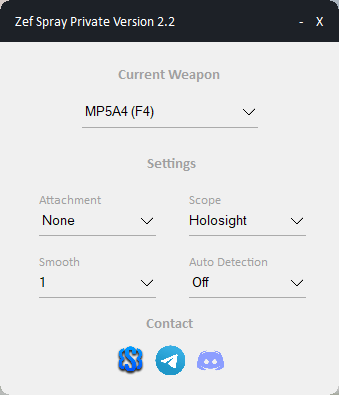 Be

happy

winning

strong

with Zef Spray.
Buy now.
MONTHLY
NORMAL VERSION
$7
Undetected
Single Computer
Works On All Mouses
30 Day
Technical Support
MONTHLY
PRIVATE VERSION
$15
Undetected
Single Computer
Limited User Database (9/20)
Works On All Mouses
30 Day
Technical Support
YEARLY
PRIVATE VERSION
$90
Undetected
Single Computer
Limited User Database (9/20)
Works On All Mouses
365 Day
Technical Support